RK black velour pipe and drape for your event needs
For event, wedding, stage, party, hotel, and school etc, pipe and drape systems can be application for backdrop, divider, booth, and wall cover. RK Pipe and Drape offers pipe & drape systems for your event needs, we have black velour pipe and drape with poles, bases, cross bars... shopping our huge inventory now!
Applications
Trade Show - establishing a trade show booth system.
Places of worship - ceremonies and performances.
Colleges and schools --For sporting events, class reunions, and a variety of school related functions.
Wedding halls - Backdrops behind the head table, and often the surrounding walls as well.
Businesses - Hide construction on their premises, or to re-enforce corporate colors wherever they go.
Photographers - Background of photo shoots, or to make a portable photo booth enclosure.
Hospitals - Create private dressing rooms for patients waiting to go to their room.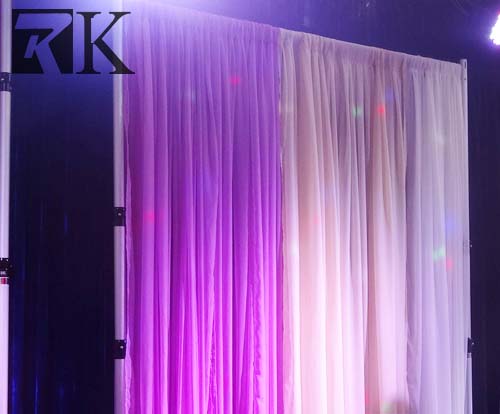 RK pipe and drape
Creating an amazing event, save time and money by using pipe and drape. Someone said: "pipe and drape can be simple and effective as well as creative and complex, so save time and money." But the commitment to the premise that wholesaler has huge inventory.
Relevant Information
Leave a Reply: