Category
Pipe and Drape Parts
Pipe and Drape Kits
Pipe and Drape Package
Portable Floding Tables
Product Information
2016 new Quality pipe and drape systems from RK
Year 2016, RK Pipe and Drape designs new pipe and drape systems, it is a universal modular draping system for all fold types. A quote on the pipe drape sales: US $ 115 - 150, depend on your choice. Note: Explore RK's board "Pipe and drape" on Pinterest (url https://www.pinterest.com/rkintheworld/pipe-and-drape/) .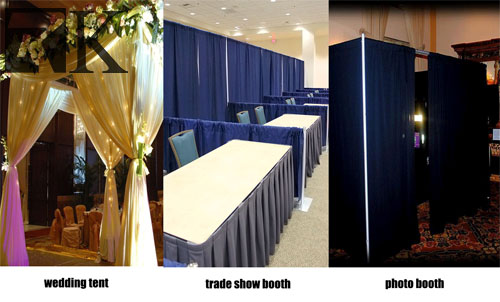 With telescopic pipe (in truss display), Backdrop Stand, Pipe and Drape Kits Decorations Curved - Although this new pipe and drape also composed of uprights, bases, crossbars and fabric, the feelings of such high quality pipe drape kits, let clients look at them with a contented look.
Relevant Information
Leave a Reply:
Copyright (c) 2013,Rack in the Cases Co.,Ltd.All Reserved.