Category
Pipe and Drape Parts
Pipe and Drape Kits
Pipe and Drape Package
Portable Floding Tables
Product Information
using pipe and drape for trade show booth design is cool
Single & Double Exhibit Booths are which you see at trade shows and convention vendor floors. A common method is that using pipe and drape for trade show booth design, as pipe and drape system is a great way to make an exhibit booth, divide a room or use as a backdrop for a press conference.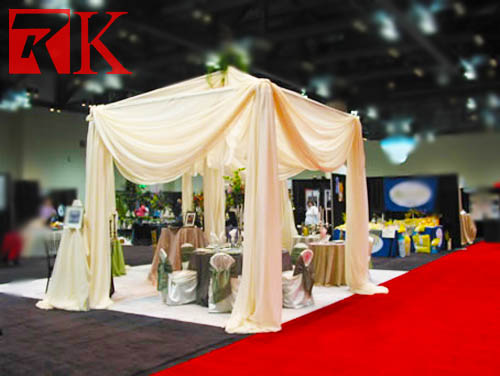 trade show pipe and drape systems
The pipe and drape display booth is so cool, it fascinates me. Do you want to try to create a good, beautiful trade show booth? Exhibit Hall Decor, from classic pipe & drape to modular style hardwall systems, RK Pipe and Drape will help you.
Relevant Information
Leave a Reply:
Copyright (c) 2013,Rack in the Cases Co.,Ltd.All Reserved.