pipe and drape for an outstanding exhibit display
The design of exhibit display is never an easy job if you want to be unique among the competitors. If with pipe and drape, the layout of your exhibit display will have a lot change in designing. No matter what the area is alike (large or small), you can adjust according to actual needs -Using telescopic pipe and drape, it can be prolonged or abbreviated.
RK drapes are available in various fabric materials in different colors:
1, The latest fabrics include Banjo, Velvet, Velour, Hemp, and so like.
2, These drapes can be in red, purple, green, white, black etc.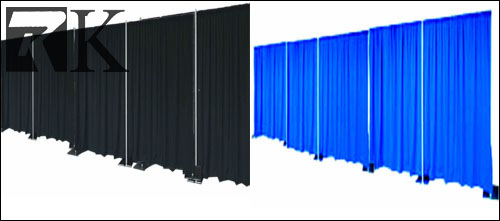 pipe and drape for exhibit display
Exhibitions/trade show displays can help your company contact directly with existing and potential clients. RK has helped a lot of exhibitors with our pipe and drape systems, our long experience tells us that these uniquely combined color pipe and drape can make your exhibit display eye-catching and help attract a lot of visitors.
Next:None
Relevant Information
Leave a Reply: