Category
Pipe and Drape Parts
Pipe and Drape Kits
Pipe and Drape Package
Portable Floding Tables
RK has pipe and drape for your special event
RK Pipe and Drape has pipe and drape which you need, the equipment you will need for your wedding, private affair, or special event (including Banjo drape for expo shows and shiny Poly Knit for weddings and other elegant events).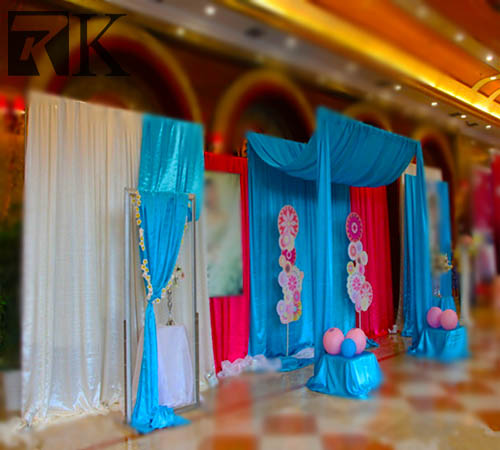 pipe and drape
Specifications
Material:
Aluminum 6082-T6
Color:
Silver and custom-made
Tube:
diameter of 50×46×41mm of three pieces uprights;
diameter of 50×46mm of two pieces uprights;
diameter of 38×34mm of crossbars
Thickness of tube:
1.6mm
Print:
stoving varnish
OEM/ODM:
Yes
Main Benefits
* Can be assembled in minutes.
* Freestanding system.
* Virtually unlimited size or configuration.
* Creates theatre-like appearance.
* No extra tools required.
Installing pipe and drape systems, no tool required. Remark: RK's pipe drape begins at 10 feet high and can go up to 22 feet high; Custom draping options are available if ordered within a timely manner.
Next:None
Relevant Information
Leave a Reply:
Copyright (c) 2013,Rack in the Cases Co.,Ltd.All Reserved.