Category
Pipe and Drape Parts
Pipe and Drape Kits
Pipe and Drape Package
Portable Floding Tables
Product Information
something about setting up exhibit booth pipe and drape
Setting up exhibit booth with pipe and drape can be really helpful. With the assembly process being one of the better systems available, this unit can be packed up and moved off to another area quickly. Portable display booths are very helpful for a stage production where multiple stage sets need to be moved and set up.

When building trade show booths for expos, wedding bridal shows, corporate trade shows... you use pipe and drape system to divide a room, or use as a backdrop. Different occasions need different atmospheres, pipe and drape are essential, especially when they are displayed in different colors.

Pipe and drape trade show display can be packed up and set up in a timely manner saving precious time. In addition, pipe and drape included are durable and will last for many years to come.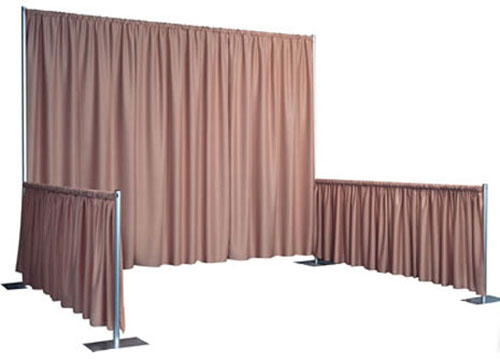 Relevant Information
Leave a Reply:
Copyright (c) 2013,Rack in the Cases Co.,Ltd.All Reserved.