Category
Pipe and Drape Parts
Pipe and Drape Kits
Pipe and Drape Package
Portable Floding Tables
Product Information
You need a beautiful wedding tent
Would you want to transform your wedding room into a romantic occasion? You need a beautiful wedding tent. A good news that RK Pipe and Drape carries pipe and drape systems for sale in this month - RK newly-designed outdoor Pagoda Wedding Tent for sale now.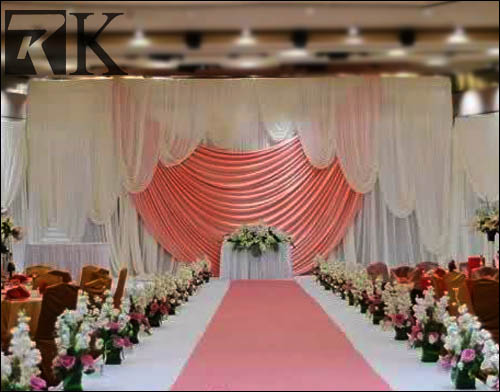 RK wedding tent
Features:

* Durable and rust resistant.
* Modular system.
* Easy to install, can be assembled in minutes.
* Virtually unlimited size or configuration.
* Creates theatre-like appearance.
* No extra tools required. * Drapes can be supplied to size * Easy for carry with special designed hand bags.

Price depending on your choice, visit link "http://www.rkpipeanddrape.com/RK-Price/" for more detail. In your wedding party, using wedding tent to create a visually clean backdrop for wedding altars.
Relevant Information
Leave a Reply:
Copyright (c) 2013,Rack in the Cases Co.,Ltd.All Reserved.